JOIN US THIS SUNDAY!
All our previous services are available online. Just click on the video below to watch the latest service or to join with us live on Sunday.
All the details of our mid-week activities are below. Just click on the activity for more details and if required, to book in advance.
For more information please click on "contact" above and get in touch, we would love to hear from you.
We are A family CHURCH that EMBRACES OUR WHOLE COMMUNITY
See below for information on all our weekly events
Children's and Youth Worker/Pastor
Theydon Bois Baptist Church is looking to employ an enthusiastic and self-motivated person for this role. You need to be passionate about reaching out and caring for children and young people in our church, local community and schools.
For further information please view our advert on Premier Jobsearch.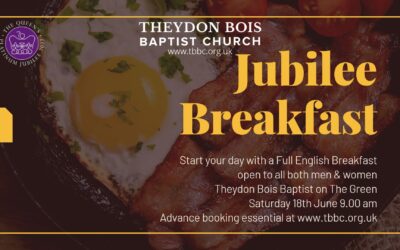 Start your day with a Full English Breakfast
Saturday 8th June 9.00 am
For more details and to book click on image above
If you're thinking of visiting our church – YOU'LL receive a warm Welcome!
Our meetings on a Sunday are usually at 10:30 am and 6:00 pm, and they typically last about an hour and a quarter. During the services, we sing songs of praise, which are projected on a large screen at the front (song books and large print paper copies are available for those who can't see the screen). We also pray, read the Bible and listen to a talk about a particular Bible reading.
In the morning, the children share in the beginning of the service with everyone else. Children are encouraged to sit at the front and to participate in the service. Most Sundays children will go through to Junior Church in the Rear Halls part way through the service.
After the morning worship, there is an opportunity to sit down and enjoy a chat over a mug of tea or coffee in the rear halls. Often on the first Sunday of the month, we then have lunch together – there is always enough food for visitors, so expect to be asked if you would like to stay for lunch on those Sundays!
In the evening service we spend time in worship, sharing together, and in ministry time in the power of the Holy Spirit.
There are many other things going on during the week, and these will normally be shown in the calendar, under the "What's On" tab.
Any questions please ask, you can email us by clicking this link.